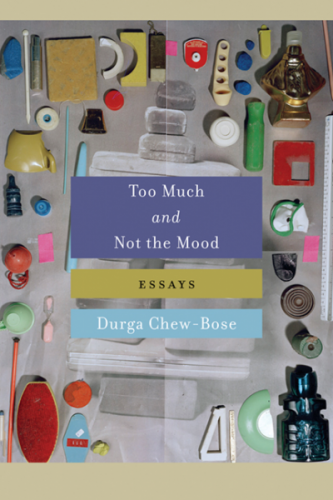 [June 15th saw the Montréal book launch of Durga Chew-Bose's book of essays Too Much and Not the Mood (Harper Collins, 200 pages) at Canada's graphic novel siege social, Drawn and Quarterly (211 Bernard Street, Montréal). The space was overflowing with young readers, writers and fans of Chew-Bose's writings in Rolling Stone, Interview Magazine, Hazlitt, Guardian, etc. She has been in Montréal for over a year after living in Brooklyn and thereabouts as a freelancer for more than a dozen years. Haley Mlotek, a writer and editor based in New York whose works have appeared in the New Yorker, NY Times, Hazlitt, Globe and Mail and other publications, was in conversation with Chew-Bose. Aliya Varma, a recent CEGEP graduate and an aspiring student at Concordia University, felt wired and connected enough to the emotions in Too Much and Not the Mood to do a review of Chew-Bose's book of essays.]
Too Much and Not the Mood by Durga Chew-Bose provides insight into how mundane everyday events can cause an uproar in a person's life. In these essays, Chew-Bose describes the simplest things in the most detailed manner, making me feel as though I were examining the moment or object right in front of me.
Chew-Bose invites us to meander with her through her thoughts and live with her reflections on a wide variety of subjects touching on relationships, art, movies, music. The essays are like short journeys; they evoke the same sense of excitement that you feel when discovering a new place. The quick snippets of vulnerability that she offers in her writing also add a sense of ease and closeness for readers, drawing them into the folds of her experiences and her observations. It feels like you are in conversation with the author.
One essay that particularly spoke to me was "The Girl" – the way Chew-Bose describes how the "girl you want" is not perfect even though she shares her appetizers, and is in fact quite simple, like most girls who seek solace in familiar objects and people. That girl is also relatable. The essay struck a chord with me, echoing how I describe situations in my own journal.
Some of the essays allow us to peer into Chew-Bose's childhood. The essay "Miserable" explains how pronouncing the "b" in miserable eluded her as a child, and how the meaning of the word changed as she grew up. Most of her friends started using "miserable" to describe a cold or to depict people. The author's example of how an introverted student can be "miserable" during orientation stood out for me. Once again, Chew-Bose finds a way to make an extremely personal essay relatable. With great tact, she finds a way to expose readers to personal moments of her life, and make them feel included.
The essays are compiled like parts of a journal offering glimpses into the author's innermost thoughts. It also reminds us of all the things we might ponder on a daily basis. There is something heartwarming about the book; a sense of comfort is found in each page. The words are strung together simply, but the emotions evoked are intense. Each essay sets a different tone and mood that everyone can relate to. The compilation of essays is intriguing and riveting, yet calming. It's the perfect book to read during the summer or whenever you want to immerse yourself for a quiet moment of reflection.