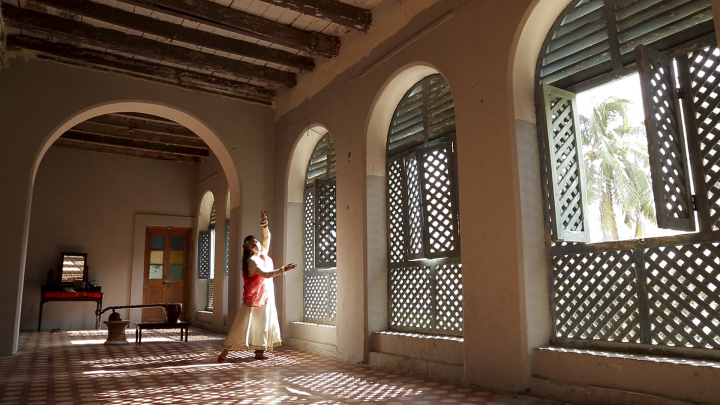 The South Asian Film Festival of Montréal (SAFFM) was launched in 2011. Since then it has established a reputation for showcasing quality documentary and feature films from India, Pakistan, Nepal and Bangladesh, as well as films about the sub-continent made in Canada and the USA.
Three documentary films from Pakistan shown this year drew my attention: These Silences Are All the Words, Indus Blues and With Bells on Her Feet. The films were screened on October 26, 2019.
What struck me as a journalist in India during the 1980s was the lack of coverage of Pakistani culture within English language media at a time when India-Pakistan politics dominated print and airwaves. I wonder if my experience would have been different had I lived in Delhi (Northern India) or Hyderabad (South Central India) instead of Mumbai in Western India. I also lived, unwittingly, in Hindu India.
These Silences Are All the Words (15 minutes) is a deeply personal portrait of three libraries – Bedil Library, Ghalib Library and Saeed Hashmi Reference Library – in linguistically diverse, "madly urbanized" Karachi. The film is made by photographer and filmmaker Madiha Aijaz, who unfortunately passed away earlier this year.
The camera pans "unvarnished" interiors: cupboards filled with aging books, some that seem uncategorized, books on tables, including some ancient-looking manuscripts, librarians at work, people reading, contrasted with empty interiors, old photographs on the wall and other memorabilia, views from the windows, entrance ways, exterior views of the libraries, as well shots of the city. The soundscape consists of traffic and other city sounds and Urdu voiceovers – excerpts from interviews with the librarians, the library users and unidentified others. Some of the reasons for the decline of the libraries come through as the changes wrought by the internet, the growing influence of English and contemporary urban culture, an ignorance of local languages and literature, and a lack of care and resources.
One voiceover is of a man who says he cannot identify with what is happening outside; the library is his refuge. Another is of a woman librarian who talks about keeping the library going against many odds, then indicating in a phrase that perhaps her own faith in the undertaking is faltering. We hear a voice asking why the library was closed over days, at particular times, and could the librarian please respond to phone messages.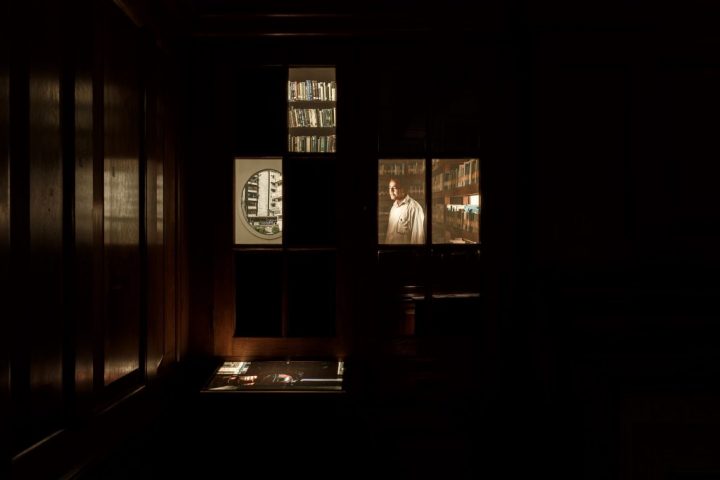 We learn that the Saeed Hashmi Reference Library, a bastion of Balochi language and literature, is in turn dominated by Urdu. (According to Wikipedia, Balochi is a Northwestern Iranian language spoken primarily in Balochistan, a region divided between Pakistan, Iran and Afghanistan). A voiceover tells us that some people (in authority) are looking at what people are reading here and asking questions, exposing the Big Brother attitude of a centralizing Urdu-dominated State and the growing influence of radical Islam in Pakistan.
While I found this film atmospheric and interesting, I also felt a little lost while watching it, perhaps because I lacked context. These Silences are All the Words nevertheless communicated its central message of language, literature and culture under threat, also conveying that there are still people who care as readers or as custodians.
With Bells on Her Feet (15 minutes) is a striking portrait of the art and resistance of Pakistani dancer, Sheema Kermani. At 68, she is an indomitable presence. At the beginning of the movie she says: "For me, there is a direct relationship between dance and liberation. When a woman stands on stage to dance, what she's saying is: Here I am, I'm not ashamed of my body, I am confident, and I do not fear you."
Here again we have a marriage of visuals and voiceovers. The voice is that of the articulate Kermani who describes and defends her art with infectious passion. The visuals show her at work: performing, teaching. There is some archival footage as well. These sequences are interspersed with images of people moving through everyday life in Karachi.
The film traces the genesis of political and cultural repression in Pakistan to the rule of General Zia-ul-Haq (1978-88) who introduced Sharia laws. We see close-ups of official forms that say: "Dance, obscenity and nudity not allowed." Kermani had to re-label her performances when she filled out these forms. Incredibly, she got away with performing, and has continued her work despite death threats in recent years. Many other dancers however have left the country.
Towards the end of the film, a voiceover tells us of the suicide bomb attack at Sehwan Sharif, a Sufi shrine in Karachi that killed 90 people in February 2017. Soon after the brutal massacre, the devotees, including Kermani, pray and dance at the shrine.
"My journey has been a lonely one but what keeps me going is a hope that future generations will embrace dance, not just as an art form, but as a means to achieve humility, freedom and beauty," says Kermani. The film is an essential, well-rendered tribute to an artist who richly and courageously embodies her art and ideals.

Indus Blues (76 minutes) by Jawad Sharif is a stark, touching, beautiful depiction of impending cultural death. It also throws light on how a revisionist view of culture is being expressed in Pakistan. It travels up the Indus introducing us to poor, marginalized, fantastically talented, folk musicians who take great pride in, and are very knowledgeable about, their musical lineages, which hark back to the distant past. Unfortunately, they are the last in the line.
With them will also disappear some unique musical instruments like the boreendo, played by Fakeer Zulfiqar and the sarinda by Ejaz Sarhadi. The boreendo is a small, calibrated clay pot with holes – a wind instrument, and the sarinda is essentially a bowed, string instrument.
The film takes us to starkly beautiful, desert landscapes and frames the informal performances against mud huts, thorny trees, children at play, and women at work. The musicians are often dressed in strikingly traditional costumes and jewellery. We also see the more urban musicians framed against heritage sites like a mosque and a garden. Some are filmed performing on simple boats that float on the mighty Indus.
The film also depicts the careful work and dedication of the craftsmen who make the musical instruments locally, and who are often musicians themselves. A telling scene portrays Ejaz Sarhadi in traditional garb, playing the sarinda, accompanied by his son in modern clothes, on the sax. Most of the musicians address the difficulties involved in passing musical heritage to the next generation in the 21st century.
As if the disappearance of this music because of the "lack of economic sustenance, poor opportunities, low market demand and lack of government patronage" isn't enough, director Jawad Sharif explains the other hurdle these artists face: "There is no doubt that music is a rich and inseparable part of the cultures in Pakistan, but the increasingly menacing religious orthodoxy and obscurantism are jeopardizing this beautiful form of creative expression. I believe our very civilization is under threat…The musicians and craftsmen that we have featured in this film have first-hand accounts of harassment and violence at the hands of religious clerics and their followers. Even the makers of this film were physically threatened and obstructed by some miscreants in some of the communities covered." And we get to witness all this on camera.
This film is in contrast to Song of Lahore, another film shown at SAFFM a couple of years ago, made by Oscar award winner, Sharmeen Obaid-Chinoy with Andy Schocken. A sort of Pakistani Buena Vista Social Club, it is about musicians who had scattered and gone underground during the repressive years. They come together to create a roots-fusion-jazz sound popularized via internet videos. They end up being invited to play with Wynton Marsalis and his musicians at the Lincoln Center in New York. One of the reasons for this success and for who gets highlighted and helped vs who gets ignored seems to be based on opportunities available in urban Pakistan as opposed to what is out there in the backwaters.
I found myself crying throughout the film. When I left the theatre, it was cold comfort to know that at least Indus Blues was able to record these musicians and their lives. Perhaps the film will bring about a "rescue mission." Whatever the case, it was a privilege to witness the haunting and soulful art of these wonderful musicians and bear witness, albeit briefly, to their lives.
Bios of the filmmakers
In her films, photography and writing, Madiha Aijaz (1981-2019, Pakistan) explored how people experience pleasure and privacy in reordered urban spaces. She was a recipient of the Fulbright Scholarship (2010) and the ROSL Visual Arts fellowship (2017). She obtained an MFA in Photography from Parsons – The New School for Design, NY. Her works have been presented at Chobi Mela X in Dhaka, Bangladesh (2019), the International Film Festival of Rotterdam (2019) and the Karachi Biennale in Karachi, Pakistan (2017), and in Liverpool.
Her book with Reema Abbasi on the Hindu temples in Pakistan was published in 2014 (Historic Temples in Pakistan: A Call to Conscience, Niyogi Books, New Delhi). Aijaz also served as Assistant Professor at the Indus Valley School of Art and Architecture, Karachi, and as Visiting Professor at Habib University.
Jawad Sharif is a Pakistani filmmaker who believes in using his skill as medium to inspire social change. He started his career in 2007 and has also directed several documentary films and a drama series for TV. He worked on a number of socially and culturally sensitive film projects involving the themes of human rights and social injustice, as well as arts and culture. He has contributed as the cinematographer and editor to the critically acclaimed K2 and the Invisible Footmen, which has been screened and won accolades in festivals around the world.
Taimur Rahim is a producer and director from Pakistan. He completed a Bachelor's degree in Film and Television at Concordia University in Montréal and later finished a Master's degree in Film and Digital Image at the University of Sydney. Taimur has worked in television for over 10 years. His work includes producing and filming television programs in Pakistan, Australia and the UAE. With Bells on Her Feet is his first major independently made documentary.