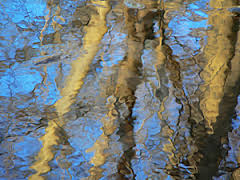 REFLECTION
the tree that stands
near the edge
of the pond
sees
the deep blue abyss
into which it would
one day tip
and fall
without end
THE SKY IS FULL OF SHINING STARS
The sky is full of shining stars.
Most are shining brightly yet some
are burning out as we speak.
And one, perhaps amongst
the most ancient of all the stars,
will soon perish.
And it is hard to predict
which one. Yet when a star dies,
it outshines all the others
and thus catches our eyes.
See how bright it shines in its last moment.
As if it wanted us to take notice
of its gesture of final farewell.
And even though we know
that such an event will occur once in a while
in the heavens full of stars,
when we catch sight of one that shines
for the last time,
something ancient within us stirs
—awakens and shines in return.