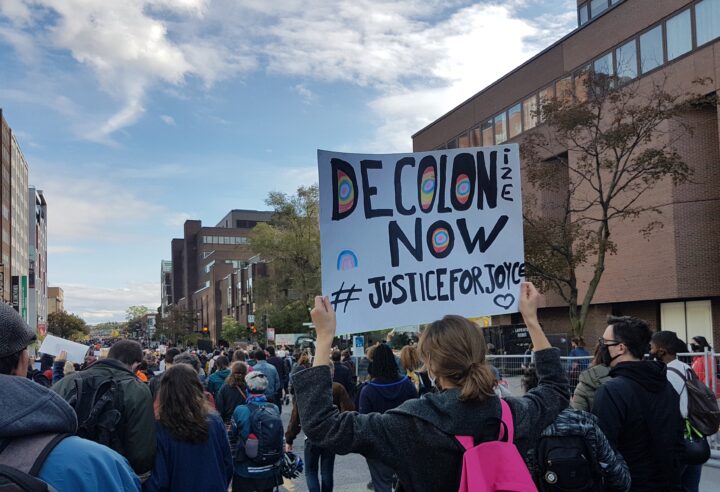 There is a vital energy pulsing through this winter issue of Montréal Serai. It radiates off the landing page, with the vibrant art of Leah Kanerahtaroroks Diome, who is from the unceded Kanien'kéha:ka Territory of Kahnawake. In her paintings, Leah shares a piece of her heart and invites us into her culture and language. The restorative power of art is integral to her story.
Activist Michèle Audette is forthright in her interview, sharing truths about systemic racism and sexism, being born into segregation and denied her right to grow up in her Innu culture and traditional territory. From a very young age, she was cradled by women from diverse Indigenous nations who infused her with visions of justice and healing and courage to fight. Resilience has deep sources.
Sáasil Uj Chi Xool, a 10-year-old Maya schoolgirl, storyteller and artist, shares her story of "The Little Deer and the Tiny Star." Her parents, María Reneyda Xool Yam and Hilario Chi Canul, are right behind her in this creative project and are committed to the revitalization of the Mayan language.
Multimedia artist, poet, musician and filmmaker Craig Commanda from Kitigan Zibi offers a luminous array of beadwork, poetry, films, music and art. Reflecting on past, present and future, his artistic practice "seeks resurgence contributing to cultural preservation and revitalization for and by Indigenous peoples."
Nineteen-year-old Alice Cormier, an Inuk artist from Kuujjuaq who is enrolled in a Visual Arts program in the south, talks to Montréal poet and novelist Carolyn Marie Souaid about where she comes from and how her Inuit culture shapes her art. (The "south," in this case, refers to Montréal.)
In "Sheets to Die For," seasoned poet David Groulx leaves us pondering before plunging us into dark night-waves in "Relinquere."
Maya Khankhoje's story, "The Emperor and the Crab," sidles up with a sly pinch of truth about the power of resilience. Maya is one of the founding editors of Montréal Serai.
Choreographer, dancer and teacher Amrita Choudhury shares her experiences of travelling to teach and perform in western Canada and being stranded there without stable accommodations when the first wave of the pandemic struck. While no stranger to racist insults, Amrita was deeply affected by the violence she witnessed. In "Reflections from the Heart: Journeying Through COVID Isolation," Amrita attempts to reconcile these experiences with her gentle approach to life and dance.
Anishinaabe filmmaker, singer-songwriter-musician and photographer Marie-Josée Tremblay presents her latest short film NIB8ÏWI, with its haunting soundtrack. NIB8ÏWI – the Abenaki translation of her original title, Durant la nuit – is accompanied here with a stream-of-consciousness text (in French) on the terrors of the night.
In a sweeping piece called "India's Indigenous Peoples and the Rise of Brahminism: Bhima-Koregaon, Then and Now," Shankar Tadwal, a Bhil tribal activist in Central India, Subhadra Khaperde, a Dalit feminist fighting for social justice, gender equity and sustainable agriculture, and Rahul Banerjee, an activist working for equitable and sustainable development, offer their insights into the historical and current significance of the town of Bhima Koregaon—particularly in relation to the Adivasis' resistance and the Dalit movement against the caste system. The accompanying photos tell their own truths of survival and resourcefulness.
Intrepid film critic Mirella Bontempo digs deep in her review of Trickster and Inconvenient Indian, highlighting their multilayered reflections on Indigenous realities and their searing exposure of colonialism. Citing Thomas King, Kent Monkman and Skawennati's Time Travellers, Mirella focuses on the ongoing importance of Trickster and Inconvenient Indian and the Indigenous voices informing them. She comments in her bio that she "learned about First Nations' tricksters while writing this piece, and about raceshifting after it was written."
We hear many voices resonating in these stories, recalling those who came before us, those no longer with us, and those—as the legends tell us—who are still tiny stars in the sky, waiting to come.
Our deep thanks to our contributors and to our readers. We invite you to share in this dialogue.