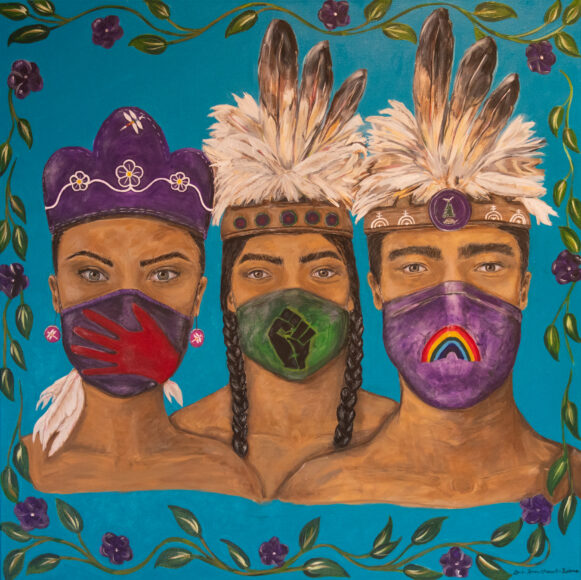 Why I paint
For me, painting is like breathing. It is a process, a journey, an essential form of expression and mindfulness where my heart leads and my mind follows, and there are no critics. It is my playground, my happy time where curiosity and creativity run wild and I feel free and childlike again. The process is a prism through which my experience is synthesized, dancing my brush across the canvas, honouring my inner rumblings and fire (Satonhet).
With some informal training in the last three years, I am primarily self-taught, drawing from fellow artists, books and internet resources. Each sitting is a new experiential learning opportunity and technical challenge.
The effects of intergenerational trauma on both my family and community are felt every day. As an Indigenous woman, the painting process has been cathartic. It has had a grounding effect on my life, bringing clarity, joy and self-expression. It has allowed me to sit with difficult emotions without letting them devour me, as they so easily could. I've grown as a person of this earth and as a mother. Artistry in its many forms is an effective means of self-exploration, healing and activation of our inner wisdom. To sing the song we are meant to sing on this earth, we all need to embrace our inner fire—and the introspective nature of artistry facilitates that process.
Today I share with you three of my more recent acrylic-on-canvas paintings. Sharing these paintings with you is like sharing a piece of my heart. In doing so, I am connecting with the ​Montréal Serai​ community in an effort to bring about awareness of Indigeneity and artistry as a means of personal insight and growth.
*Note:
In Kanien'kéha:ka, this is what is meant by the following words:
Kahwà:tsire: family / All Our Relations / inner fire
O​nkwehonwe:neha​: an Indigenous person who is authentic / true to themselves
Satonhet: y​our fire, the heart of your existence, your essence or spirit. When you access your ​Satonhe​t, you are one step closer to identifying, manifesting and sharing your unique gifts and purpose on this earth.
Akwé:kon: all / everyone together
Skatne: together
Kaska:neks: longing / deep desire
Tanon: and
The artist can be followed or contacted on Facebook (Leah Kanerahtaroroks Diome) or Instagram @leahkdiome. Or visit The Purple Dragonfly Trading Post, P.O. Box 1486, Route 132, Kahnawake, Québec, J0L 1B0