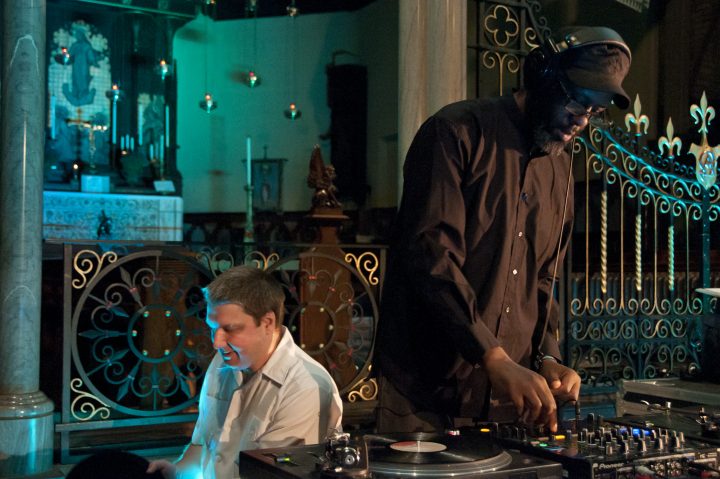 The history of music is all about borrowing and building on the work of predecessors, whether it be Griots keeping old stories alive and telling the stories of their time, or Johann Sebastian Bach traveling to hear Buxtehude's organ playing and transcribing Vivaldi, or jazz musicians of the 21st century learning from mid-century 20th recordings by Clifford Brown or Charlie Parker. Additionally, musicians have used their instruments to tell their stories, whether it be voice, drum, kora, saxophone or symphony orchestra. Not surprisingly, the long-playing vinyl recording itself has become an instrument of choice for musicians of the 21st century who have inherited the art of mixing from predecessors as illustrious as DJ Kool Herc, and Grandmaster Flash, not to mention the many lesser known DJs out there spinning discs on turntables in the house parties and dance halls of the world.
One local act that centres on this most post-modern of musical arts where pastiche is king and time travel a given, but with a decidedly fresh approach, is Jazz Amnesty Sound System (J.A.S.S.). Deejays Andy Williams and Lewis Braden (aka DJ Sweet Daddy Luv) are the duo at the turntables, spinning jazz tracks from their colossal collections. Moving their mixing art further, they are currently finishing a 2-LP release called An Afro-Cuban Excursion, featuring the music of the Cuban-born eclectic jazz pianist Omar Sosa.
Andy Williams is no stranger to Montréalers as a tasty spinner of jazz recordings, and Lewis Braden has joined the UK-born Williams to mount a series of projects focused on mixing jazz for the masses. Williams and Braden have worked together since 2010, but this is Williams' 40th year in the business. He's also in his 25th year at Montreal's CKUT, airing a show called "The Goods." Braden, for his part, has been a self-confessed "music industry lifer" since the 90s, working in the record distribution business, notably at Cargo records and Ninja Tune. His record collection is in the 20,000 range. (He calls it "The Record Canyon.") Along with his involvement in JASS, Braden has a label called Totally Real Probably Not Fake, which releases his own music under the name "almost nobody," as well as bands like Boar God, Ironic Butterfly and the mysterious 4th-dimensional band called The Graffiti People.  Following a more journalistic and scholarly bent, Williams, along with deejaying, has been a pedagogue since 1996, teaching math, science and the humanities for the first 18 years, and later black social history. He ran a series of workshops on jazz history at McGill University for 10 years and is a frequent guest lecturer on the subject at local colleges and cultural institutions.
Keep it Fresh
The collective goal of Jazz Amnesty Sound System is to try "to draw attention to jazz." The instrument they use to do their work is a complex one. "My instrument," Braden says, "is a basement full of records."  And the art is many-layered. "It's a selection thing. We're not scratch DJs. It's about the flow," he explains, pointing out the improvisational aspect of the art that requires close listening and reading the energy of a crowd of dancers. "Your plan is, I've got this many records," Braden quips.
The fact that "Jazz is so vast" is the challenge JASS rises to, via their collection. They believe that it is entirely possible to present mixes on a particular theme that can be different each time out, just like a true jazz performance, given the fact of the substantial quantity of tracks on LPs, most of which people have never heard.
"There're so many records out there and I've always looked at that as a challenge," Williams says. "My former mate in the Goods, Scott C, always said, 'Keep it fresh.' So in my mind it's always there, to keep it fresh. You'd be surprised – if you have 5,000 records in your collections, you probably play 10,000 of those tracks, but there're actually 30,000 or more of those tracks. So you can always keep it fresh."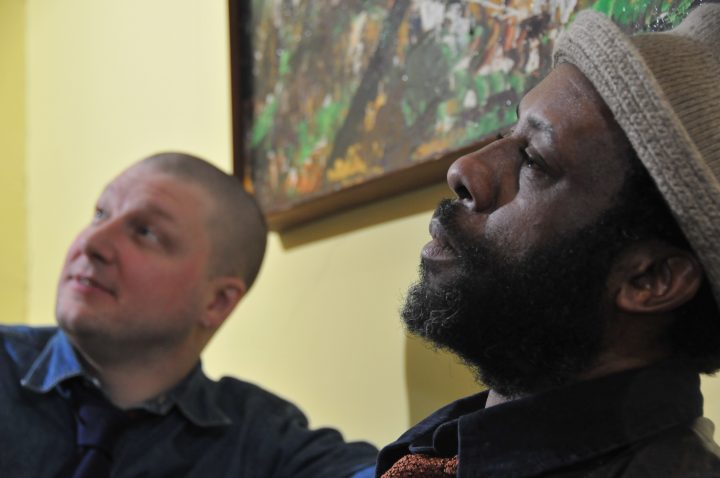 The duo admit that they have "some grandiose ideas," but this hubris is backed by a love of jazz and an encyclopedic knowledge of the discography of jazz, an aspect of their work that becomes obvious when one listens to their mixes (available at https://www.mixcloud.com/J_A_S_S/). Culled from their personal collections, the mixes are impressively varied and include masters like Duke Ellington and Randy Weston, rarities like Ahmed Abdul-Malik (the hard-bop oud-playing bassist), futuristic visionary Sun Ra, CTI jazz (1970s jazz's most idiosyncratic label), 80s jazz, women in jazz, jazz rock experiments and much much more.
A black vinyl disc spinning under a diamond-tipped stylus on a turntable was once, of course, the standard thing for decades, but with the rise of the CD and more recently the phenomenon of streaming and digital/virtual product, things have changed dramatically to the point where DJs do their work via laptops. The trend is reversing, however. Braden found it remarkable that after this year's International Record Store Day on April 18, Nielsen's ratings showed sales that week that were the 3rd largest since they began listing the stats in 1991. Although the music market is still overwhelmingly digital, vinyl, like CDs, is "for those who want to buy stuff, and there's digital for everybody else," Braden says. "That means, roughly, that physical musical products these days are 70% vinyl and 30% CDs for those who want a physical product, and there is digital for everyone else. Even Bruce Springsteen only makes about 10,000 copies of a record," a far cry from the heyday of the LP when sales were in the millions of units.
During the heyday of the CD, vinyl was kept alive by Heavy Metal fans and electronic music DJs, Braden claims, but also significant is the richness of the analogue sound and the fact that analogue round waves, in contrast to the step waves of the digital format, will carry bass sounds more fully. "That's why Dub step, when it came out, was all on vinyl… the bass just sounds so much better," Braden adds.
Curating the Jazz Experience
Jazz is not often spun by DJs, but it is a rich vein to mine for these artists. "The idea is there's lots to jazz," Braden says. "Jazz dips into all kinds of different things and it's been around for a while and it's influenced music all the way through, so we try to touch on different aspects of it with the mixes."
The idea for JASS came after a fortuitous event when Braden was deejaying at a wedding and the client wanted an all-jazz playlist. Braden found that people really liked it and came up to ask about the tracks. He didn't want to embark on the project alone, so he recruited Williams due to his expertise in the genre. "I've learned a lot from him just hooking up with him," Braden says,  "so we decided to start JASS."
The focus on jazz was a natural thing for Williams: "I've always been involved with jazz since I was 17. So we made projects out of concepts we'd discussed, for instance the event at the Contemporary Art Museum called Living Inside Jazz, which involved mid-century furniture and music within jazz." Braden elaborated: "Music was chosen on the basis of album covers. Every time we would play the record, we would slide the cover under a camera and the camera would project the image on a screen behind us."
"We rented a bunch of mid-century furniture," Williams adds, "and set up two facing living-room sets with big old TVs but the TVs had jazz images and quotes from jazz musicians." Because of poor sight lines preventing the projection of the images to everyone's field of vision, they went as far as setting up a projection system where images of the album cover would appear on blank covers that patrons could read to find out what they were listening to. "We also had magazines and books. I brought in Jazz Times and other things pertaining to jazz."
For Braden, the JASS project has a large scope. "Part of what we do with this is we're freeing jazz. We expose people to it as best we can. And because jazz is such a wide thing there are lots of different ways to go about it. So we have a lot of these different projects that are about 'here's another way of looking at jazz.' That Musée d'art contemporain project was album cover art. We curated another project that was a Jazz Mass, at the Red Roof Church on President Kennedy, (where) Andy and I deejayed a set of all spiritual jazz music. And we had jazz musicians come in and just randomly start playing."
"There was Gary Schwartz, (and) the Maha choir," Williams says.
"We also had Bob Olivier do a Jazz Mass," Braden adds. He was like our preacher for the night. We had Eric Lewis read something about his mother passing and John Coltrane. It was really nice. We also do this project called the Evolution of Jazz, and the concept is something that we can do over and over again. Each performance can be unique, but the general idea is we start from Quadrille from 1889 off a cylinder and then we'd play that and then the next track a few years later, and each track goes further and further along in the history of jazz, so in a set you'd hear jazz mutate, but because there's so much jazz, you could do that journey a million different ways. And we have images to go with it so we can equate where we are… what era we're in."
Back to Vinyl
As mentioned above, the JASS project of the moment involves the music of eclectic jazz pianist Omar Sosa whom Williams met through Scott Price, Sosa's manager and owner of Otá records. It was in 2008 in Barcelona, but Williams had always been a fan of his. "Omar bangs out an album or two a year, which is really impressive, but I realized when I was going to his shows, there were all these baby boomers, whereas this was also the most beautiful, spiritual music that younger folks and my average listeners, friends I know, would listen to – like Pharaoh Sanders and Yusef Lateef – and I thought, why can't Omar have that kind of a setting? And I spoke to Scott Price about it and he said 'that's not a bad idea.'"
Braden adds, perking up, "none of his stuff was ever on vinyl, either. It was all on CDs and digital. The crux was like, why don't we do a compilation of his Afro-Cuban stuff, put it on vinyl and use that to try to attract a larger audience? Andy had sort of worked some of this out before I got involved and I've been assisting him to make it actually happen. It's called an Afro-Cuban Excursion. And Omar Sosa covers the African music diaspora. Lots of different musicians from places like Mali, Senegal, Côte d'Ivoire… Andy did a really good job of choosing one track from each of these records and making a nice compilation that highlights one of the aspects of Omar's sound."
The project will mean a vinyl release of Sosa's music packaged as a 2-LP set with original cover art from HVW8 artist and co-founder Gene Pendon, and extensive liner notes from McGill University educator and professional pianist David Rhyshpan. Originally scheduled for Montreal's Suoni per il popolo festival this June on the same bill as free jazz saxophonist Charles Gayle, the launch has been postponed due to a cancellation by Gayle.
Sosa's African experiments parallel William's own as he is no stranger to African music, having been, among other things, involved in a South African project for 3 years in a row called All Roads Lead to Gugulethu, which is also scheduled for future release as a 2-LP set on the G-Three/Jazz Amnesty label.
Along with the Omar Sosa and South African projects, Williams and Braden are looking ahead to a venture focusing on free jazz, with the help of free jazz musician and record collector Eric Lewis, the goal being an interactive three-way mixing of free jazz tracks to create a new, unique soundscape, fully improvised.
For more info on the upcoming release dates of J.A.S.S.'s Omar Sosa, South African and FREE J.A.S.S. projects, and Andy Williams' and Lewis Braden's art of DJ mix generally, you can visit https://www.mixcloud.com/J_A_S_S/.