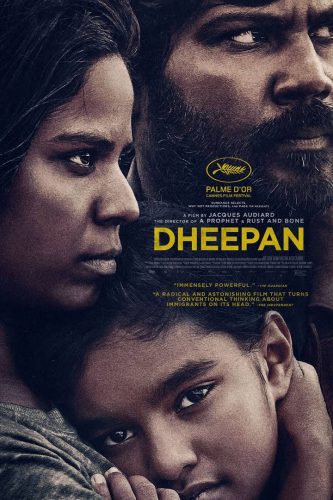 Dheepan is a Tamil-language film directed by French director Jacques Audiard, featuring Jesuthasan Anthonythasan as Dheepan, Kalieaswari Srinivasan as his wife Yalini, and Claudine Vinasithamby as their daughter Illayaal.
However, things are not what they seem. Dheepan is in fact a Tamil Tiger leader who was taken for dead. In a refugee camp, he meets a woman who in turn picks up an orphaned girl so that together they can pose as a family to increase their chances of finding asylum in Europe. In actuality, Dheepan lost his wife and children during the Sri Lankan Civil War; Yalini lost her two brothers, and Illayaal, her parents. With the help of a dead family's passport, they are lucky enough to be granted asylum and flown to France and freedom.
While they wait for their papers, Dheepan finds a job as a caretaker in a run-down building in some god-forsaken immigrant suburb. Yalini is hired as a maid to look after a disabled old man related to a gang leader. Illayaal learns to cope with bullying and racial discrimination at school; and with the French that she quickly picks up, she is able to act as an interpreter for the adults. All seems to be going well until a violent war breaks out between two rival drug gangs, shattering this make-believe family's sense of security. It is here that Dheepan's Tamil Tiger training kicks in to save the family that he hopes one day will become his very own.
Dheepan is a beautiful movie about a brutal reality. All's well that ends well for our protagonists. But is all well in the land of liberty, equality and fraternity?