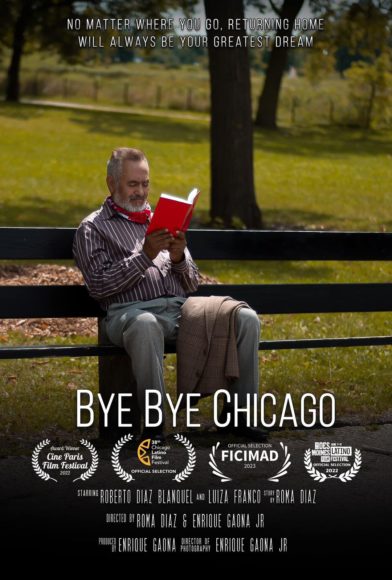 [Editorial note: Bye Bye Chicago is the first feature film written and co-directed by Roma Díaz, a central figure in the Latino cultural community in Chicago. After interviewing Díaz at the City News Cafe, a magazine store in Chicago, Shanti Kumari Johnson reflects on the impact of the film and its ability to ask the right – often painful – questions.]
The newly formed screenwriter, Roma Díaz, has a long history as a theatre director and set designer in Chicago, Illinois, but hails from Morelia, Mexico. He studied theatre and acting in the Department of Philosophy and Literature at the Universidad Nacional Autónoma de México (UNAM) in Mexico City, and is the founder of Tecolote Theater Company in Chicago. He is the creator and host of Avance en la Cultura, a YouTube channel featuring his interviews with local Latino artists.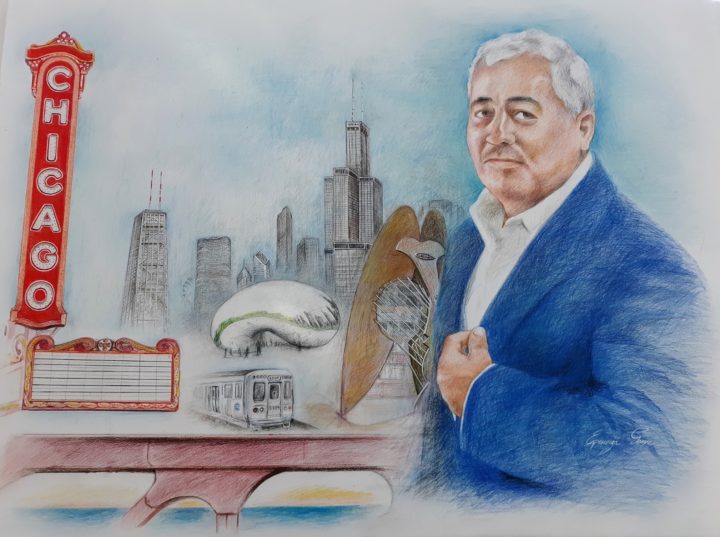 A couple of years ago, Roma Díaz was approached by Enrique Gaona Jr., a sophomore at De Paul University, with a request to quickly write a short script for a film project. Without hesitation, Díaz started writing what ended up evolving into a feature film entitled Bye Bye Chicago, with Luiza Franco and Roberto Díaz Blanquel in the leading roles. Roma Díaz also co-directed the film with Enrique Gaona Jr.
The 38th Chicago Latino Film Festival accepted Bye Bye Chicago in 2022, and it won second place for the Audience Choice Award. The film has just been selected for the Independent Film Festival in Madrid (FICIMAD).
Bye Bye Chicago is a film that tears at the heart and consciousness of any person who has had to leave their place of origin, and is especially heart-wrenching for those who leave Mexico and end up staying in Chicago. But the story echoes the experiences of every country and culture that has had to confront this situation.
Roma Díaz was inspired by the experience of people arriving in Chicago with the idea of staying for only six months, a year, or a couple of years at the most.
As the years pass, they find themselves still residing in Chicago at a more advanced age, contemplating the prospect of returning home at least to be buried where they were born, even if they are no longer alive to see it.
Roma Díaz wrote the script knowing the actors he had in mind for the parts, given their personal interests and abilities. He was inspired by the stories and anecdotes of people and friends in his surrounding community, having arrived in Chicago himself some 20 years earlier with the idea of returning home to Mexico soon after.
This first film experience for the cast and crew is reflected in the simplicity and profound sentiment of the film's images, cinematography and acting, and particularly in the content of the script for the two protagonists.
Miguel, a lonely elderly immigrant from Mexico played by Roberto Díaz Blanquel, is juxtaposed with Dalia, his neighbour, a college-aged immigrant from Colombia played by Luiza Franco, who befriends him and becomes a sort of angel of support for him, as he has no family or friends close by.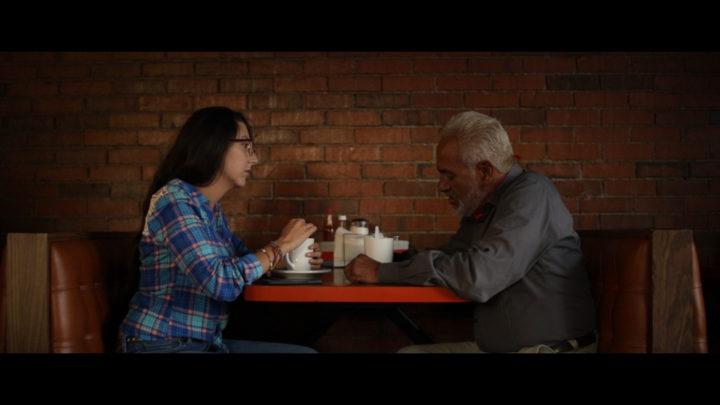 The film is written from the point of view of a Mexican immigrant, and portrays the customs and characteristics of what life is like in Chicago for working Mexican people, with the backdrop of tall, metallic buildings standing in contrast to the cramped living quarters, and the cold, windy, snowy winters. The visuals of the weather eloquently highlight the internal landscape of the person who arrived at a younger age in the hopes of making enough money to return home soon, only to find himself many years later as an elder consumed by feelings of loneliness, yearning, and sorrow. The grey scene at the cemetery further underlines this important theme in the movie.
Achieving simplicity in art is not necessarily easy, but this is a film that flows naturally. A lot is said in the silences and the pace of the movie, much more than words can convey.
Dalia is a sort of observer, a compassionate soul who also serves as a reminder that even though one particular Latino immigrant group living in what is now the United States might be the largest, there are myriads of other experiences and traditions from Latin American countries that are not so well known.
Luiza Franco's subtle, silent acting leaves the audience with a memorable scene, reflecting a mixture of contradictory feelings. The collaborative nature of the work between the director and actors was a key element in helping the film succeed.
There is a particularly treasured moment towards the end of the film where one of the men speaks in Purépecha, Michoacán's beautiful native language. His communication from the heart reminds us that the layers of super-imposed cultures go back further than we can remember.
Roma Díaz has created a screenplay that moves the audience to re-examine their priorities and values about the dilemma of being separated from family, home and dreams. The film almost compels viewers to take a deeper look into themselves. It references conversations Díaz has had over the years with people who question the value of leaving the beauty of their geographical homeland behind, only to grow old in another country whose medical system offers up an abundance of pills and medications for their daily intake as elders. What is the worth of that?
For everyone who participated in the creation of this project, Bye Bye Chicago was their first experience in film. As a result, according to Díaz, there was a sense that no one was better than anyone else and that this artistic dream being created was everybody's dream.
Furthermore, in the process of making this film and having to wait for weather conditions to bring snow, for the "lockdown" period to end, or for the right location to become available, each and every member of the cast and crew had to give it their all. As Roma Díaz put it: "Dando todo por el todo."
After watching this film, everyone – not just immigrants – may find themselves needing to think more clearly about their actions and convictions, while wiping some heartfelt tears from their eyes.
If your organization would like to show this film, please contact Enrique Gaona Cinematography, and a copy will be sent to you.
Bye Bye Chicago
Screenplay: Roma Díaz
Directed by: Roma Díaz and Enrique Gaona Jr.
Lead actors: Roberto Díaz Blanquel and Luiza Franco
Presented by: Enrique Gaona Cinematography
To view Roma Díaz's interviews with local Latin American artists in Chicago, please visit his YouTube page Avance en la Cultura (@avanceenlacultura9421). You'll find a selection of videos including Sisterhood / A Solo Exhibition by Alma Dominguez.
For more on his theatre group, see Roma Díaz Teatro on Facebook.