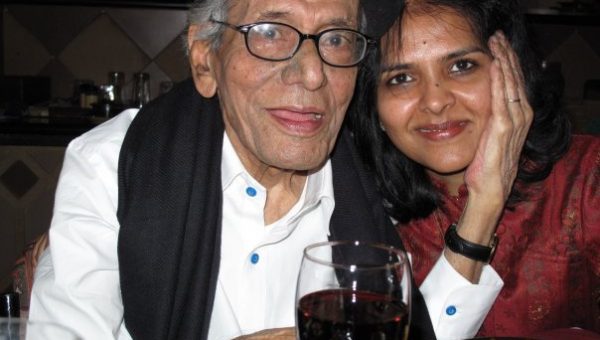 Actor, director, playwright, poet, intellectual and activist Habib Tanvir founded Naya Theatre, India's first professional theatre that brought together tribal and urban artists. Tanvir created an impressive body of plays blending tradition, modernity and tribal creativity with critical consciousness and relevance. He has received the Sangeet Natak Akademi Award (1969), the Padma Shri Award (1983), the Padma Bhushan Award (2002), nine honorary doctorates, and many more national and international awards. 
Sometimes it takes just a moment to realize that one is in the presence of greatness. Meeting Habib Tanvir was one such moment.
In 1992, I went to India to visit my parents.  My husband Rahul Varma, who runs Teesri Duniya Theatre in Montréal, had asked me to bring back the script of Habib Tanvir's play, Jamadarin (The Sweepress). The main premise of the play is that a 'sweepress' wishes to enter a temple (whose grounds she sweeps each day) to venerate the deity inside. Despite her devotion to the grounds, the priest does not allow her to enter the temple as she is 'of lower caste/an outcast.' She remains on the grounds outside, thinking about and imagining the deity she wishes to worship. As the play proceeds, the sweepress brings five rupees of her hard-earned money and begs the priest to allow her to enter. He succumbs to his greed and allows her the entry, despite his earlier insults and threats based on her being from a lower caste.
The long tradition of the caste system has created huge divides in Indian society, adding the unfair complications of hierarchies in the everyday existence of many. Habib Tanvir wrote this play as a strong criticism of the caste system and to point out the hypocrisy of institutions that are dictated by monetary greed. Jamadarin was banned in certain cities at the time, yet Habib continued to perform it.
When I called Habib to see if I could take the script back with me to Montréal, it was early in the morning. I heard a very calm, deep-drawn voice on the other end. He explained that while he'd very much like to share the play with me, there was no written 'script' of this play. His troop was mainly from Chattisgarh (a state in Central India) and its members were largely illiterate. They depended more on the rich oral storytelling tradition that exists in India and in many other parts of the world. He explained that those who acted in this play often improvised the story as they went along.
I was taken aback and felt that I must see it for myself. Without hesitation, he asked me what my plans were for the evening. When he found out that I had none, he invited me to see the show. I took down the address he gave me, in an area of South Delhi I was familiar with, and headed there that evening along with my brother.  I thought I would be going to a theatre and was surprised to find instead several rows of small, government-built houses. One of these was Habib's home. It was full of books with minimalist, low furniture. The home consisted of two rooms. Habib was working in one of them and the scent of tobacco emanating from his pipe filled the air. In the other, his wife, who apologetically excused herself, was resting.  My brother and I were ushered in by one of his assistants.
Habib looked up as we entered slowly. I remembered him from the movies I had seen, and immediately felt that the camera had well captured his presence. He was all I had witnessed him to be in the movies, small-statured and regal, with a commanding personality. He had an assistant working with him, and after greeting him, I sat down. He continued to smoke his pipe. I felt awkward and kept quiet for the first few minutes so as not to disturb him from the task at hand. He noticed my discomfort and assured me that he was just taking care of finances, mundane matters, and that I should not hesitate in sharing my interests with him.
This was my first meeting with Habib. He was in his 70s at that time, and regardless of his own accomplishments, he showed genuine interest in my life. For the next half hour we spoke about our interests: of politics and the political agendas of governments, of Montréal and theatre, and of people and stories.
My younger brother seemed unsure about what was going on. I had brought him to see a play, but instead we were chatting in the playwright's home. Habib, reading his body language, asked us if we were ready to see the play. I was surprised at his query and did not quite understand what he meant. He then gestured to his assistant that he could accompany us to the 'performance site.'
The stage was literally behind his home – a verandah that could not have been more than 14′ x18′ with just two walls and a huge rectangular mat spread out on the floor. On one side of this mat sat three musicians (one on tabla, one on harmonium, one with a percussion instrument), and a singer who would join the chorus as they sang certain parts of the narrative. The play began, and the three main actors performed brilliantly. As they acted, the stars came out and streetlights lit the stage. We soon realized that they were performing just for us!
In all my life thus far, this was the most magical theatrical experience I had ever had. It was a stellar performance in Hindi and Chattisgarhi, with improvised dialogues punctuated by a few songs that the Jamadarin sang as she went about her day, hoping to be able to see the deity in the temple – without a single lag at any moment during the hour-long performance!
After the riveting show filled with great messages, my brother and I thanked the artists. We learned that they had all come to Delhi with Habib, from the interior of Chattisgarh. Many of them were farmers or had been doing small jobs, but were now being trained by Habib to perform. Their memory was incredible and they could recite several songs and dialogues. They all had dedicated their lives to bringing awareness of diverse issues affecting the downtrodden and the forgotten in a democratic nation. Not only were these actors from rural parts of India, they also varied in age, which made these productions even more dynamic.
After the performance, when we returned to Habib's living space, I asked him why he had staged the entire show just for my brother and me. He replied, "You were sincerely interested, and for me, an audience of one or a thousand is as important."
In later years, there were times when Habib's shows were targets of fundamentalist groups in India and quite often he performed only for the security guards that were left on the premises. His respect for the principle that 'the show must go on' was undeniably a commitment to the arts, to politics, to bringing about necessary change.
Habib Tanvir was the director of the Naya Theatre Company, which he founded in 1959. Besides being a director, actor, composer and storyteller, he was also a member of parliament for six years. His work reflected a fusion of traditional and western theatre practices.
After this experience with him in India, my husband and I managed to bring Habib Tanvir to Montréal three times, where he gave workshops with members of Teesri Duniya Theatre. During one of these trips, I asked him what he felt was his driving force toward theatre. He said, "Theatre has the power of performance which can enthral, envelop [and] excite people, draw them in and change their future, impact their way of thinking, and incite them to tell their own stories, in their own language."