Tell Mother, I'm Home is a series of
images and text that I have been
working on since May 2018. The
photographs, previously manual –
both film photographs and instant
film/Polaroid – have been digitized
for the series to culminate in the
form of an artist book and an
exhibition.
This body of work contains an array
of different kinds of images
(varying in surface quality,
appearance, colour, medium, etc.).
It began as an exercise –
of journaling, making collages,
writing poems and collecting quotes
/text by other authors, using a toy
camera in some cases – to record,
observe, express and understand
where I had arrived, in terms of
time, and what it was that I was
experiencing after being away from
home for two years, mourning
the death of a loved one.
This body of work was initiated as
a photographic exploration of the
passage of time, which I began
shooting on a toy camera, within
the housing society where I had
spent my childhood.
It was originally shot/captured
out of an impulse to retrieve some
lost artefact from the past… to
explore and retrace memories,
secrets… and to locate something of
people forever lost to time, leaving
behind spaces and structures that
still remain – residues, which
bring up questions within the self,
that one ruminates over – asking
what it means to be at home,
in the world and within oneself.
To question exile and death, along
with home and belonging… in an
attempt to understand things in a
manner that is not absolute.
To begin with a metaphysical,
expansive and/or atmospheric
sense perception of the experience
of time and the liminal space of
existence.
"I would put out the light and leave
the study: invisible in the darkness,
the book kept sparkling, for itself
alone. I would give my works the
violence of those corrosive flashes,
and later, in ruined libraries, they
would outlive man."
Les Mots, Jean-Paul Sartre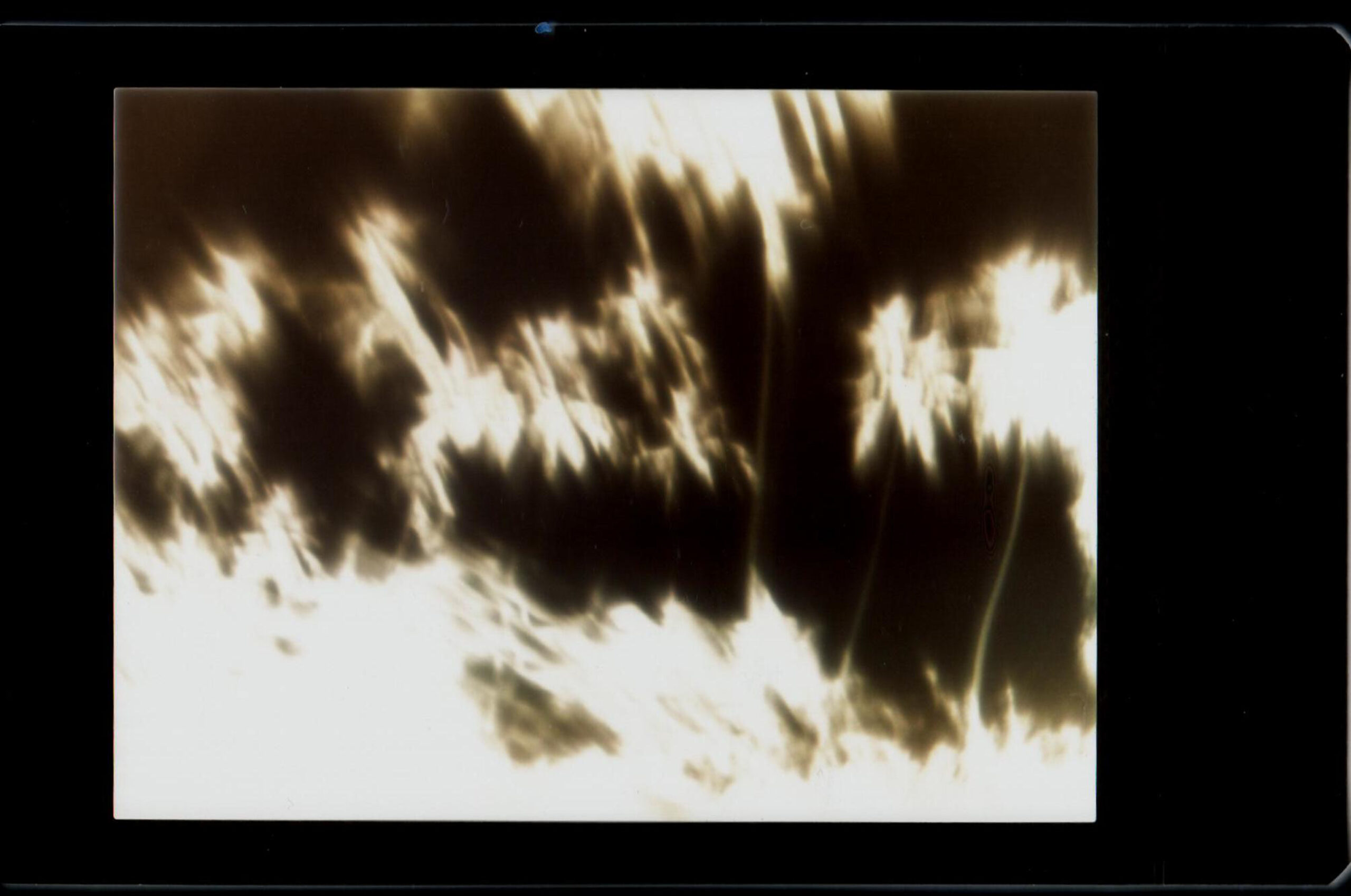 I wanted this body of work to be
expansive, and inclusive of spaces
which may or may not have been a
part of the past, but rather of
experiences in time, of life as it was
moving, through travelling and
through my observations – creating
and/or paving the way for the
existence of certain memories of
the future.
I imagined an eye, perusing both
the darkness and the lightness of
individual puncture wounds that
mark time, only to reveal the
ambivalence and abstraction of a
total experience.
"Subtlety, lucidity: the infinite is
presented as a gradual,
imperceptible expansion of the
dominion of light."
Roberto Calasso, Ardor
"… and leave you (inexpressibly
to unravel) your life, with its
immensity and fear, so that,
now bounded, now immeasurable,
it is alternatively stone in you and
star."
Excerpt from "Evening" by Rainer Maria Rilke
The private intensity of vision unraveling
before me, or my experience as an
observer, leads me to believe that
it is perhaps possible to leave one's
body and to merge with/become
the very thing that one looks at or
is looking at – to be travelling with light
and without a body.
To be anywhere in the world, whoever
I am, or shall be in this life, having
arrived at a moment in both space and
time, to recognize what is
transcendental within our experience,
my words, as if the last of them are
to Tell Mother, I'm Home.